Blue Confluence is Ingrid James & San Gabriel 7 Feat. Eric Marienthal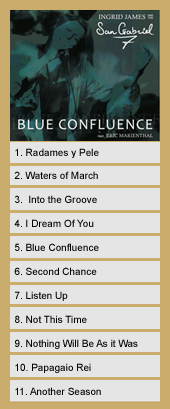 "Ingrid James is one of the top jazz singers from AustralIa while the San Gabriel Seven is an excellent Los Angeles-based group. They previously teamed together for the Lost My Heart CD and their reunion is a joyful event. Ingrid James has a beautiful tone to her voice, a wide range, makes wide interval jumps sound effortless, and has the dual abilities of being able to uplift lyrics and to scat up a storm. The San Gabriel Seven is a versatile group that, while not shy to open their music to aspects of funk, pop and r&b, have their own sound within the world of jazz.
They are a perfect match for Ingrid James, both complementing and challenging her singing. There are many highlights to Blue Confluence. A few of my favorites are the heartfelt ballad singing on "Second Chance," the James' fast but relaxed scatting on the Brazilian "Papagaio Rei," the menacing and bluish strut "Not This Time," the interplay and individual spots for the singer and trumpeter Kye Palmer on "I Dream Of You," and the late 1960s Herbie Hancock-type groove on the title cut. There are many fine instrumental solos heard throughout the set by the soulful saxophonist Glen Berger, leader-trombonist Jim Lewis (who has a nice spot on "Second Chance"), the passionate guitarist Steve Gregory and Palmer. Keyboardist Matt Weisberg is the group's musical director and forms a tight but grooving rhythm section with bassist Jonathan Pintoff and drummer Randy Drake. A welcome special guest is altoist Eric Marienthal who is in fine form on "Into The Groove," "Radames y Pele" and "Blue Confluence". The fresh material, strong musicianship, and powerful yet fetching vocals of Ingrid James make Blue Confluence into an enjoyable and memorable listening experience."
Scott Yanow (USA), author of 11 books including The Jazz Singers, Jazz On Film and Jazz On Record 1917-76
"The creative interplay throughout this album between Ingrid James' captivating voice and the unique sounds of the San Gabriel 7 is really fresh and exciting. This project showcases the versatility in Ingrid's sultry, smooth sound as well as her wonderful intonation and musicality. At times she's out front with her unique vocal style and melodic interpretation. Then, just as easily, she's able to blend right into the horn section as if she were one of the instruments. Throughout this great collection of music I found the arrangements to be creative, fresh and just fun to listen to. The improvisations from Ingrid and the band are exciting and bring the music to an even higher level. This is a great collaboration between one of Australia's most talented vocalists and the unique style of the San Gabriel 7."
Eric Marienthal (USA) saxophonist/composer
"San Gabriel 7's new vocal CD "Blue Confluence" is a treat for the ears! Beautiful, sensual vocals by Ingrid James are intertwined with the band through the lush arrangements by Dave Cushman. You could really call this CD the San Gabriel 8, as Ingrid fits in perfectly with the rest of the band. Starting with the first track, Ingrid is right at home singing as part of the horn section - and she is in great company! "Blue Confluence" captures the high level of musicianship that exists in this band, while giving plenty of space to Ingrid to shine. Adding world-class soloist Eric Marienthal to this CD is the perfect addition to this already great band. Highlights include the finely crafted solos played by Eric Marienthal throughout the CD, as well as the many solo contributions by the SG7 members. Check out Glen Berger's lyrical tenor sax solo on "Listen Up", Kye Palmer's haunting flugelhorn solo on "I Dream Of You", and Steve Gregory's funky guitar solo on "Not This Time". This CD also shows off the talented writing of Dave Cushman, as well as the tight horn playing and solid rhythm playing of the band itself. This CD is a great addition to anyone's collection."
Jeff Bunnell (USA), composer/arranger/trumpeter

"Ingrid James always delivers - her second recording with the LA outfit San Gabriel 7 (Blue Confluence" featuring Eric Marienthal on sax is beautifully mastered, fresh material, superb vocals from Ingrid, sultry, strong and int he pocket! The musicians don't bet better than this LA outfit. James has found per perfect musical family but then she's right at home with any of her chosen combos from Brsibane, Paris, London of LA. My number #1 pick for those summer nights lapping up Pacific Ocean breezes. The bossa tracks are superb, delecate and joyous. Just the way I like my musical cocktails!"
Helen Simons, Radio Presenter, Australia
"Blue Confluence is the second collaboration of the Australian vocalist, Ingrid James and the U.S. based San Gabriel 7, led by Jim Lewis. On their 2012 release, Lost My Heart and now on Blue Confluence, composter & arranger Dave Cushman weaves a common thread throughout both recordings with tailored charts for the singer, band and guest artists. Ingrid and the SG7 welcome Eric Marienthal to Blue Confluence, who imprints the recording with his signature alto saxophone solos on Into the Groove, Blue Confluence and Radames y Pele.
Ingrid James has established her grand musical versatility through recordings and on the international performance stage. She once again dazzles all the way through Blue Confluence as a wordsmith, vocalist, scat singer and when she incorporates her voice into the SG7 horn section. Ingrid brings together each of these talents on Jacopetti's I Dream of You. This balladeer stirs the listener's emotions to remember the (failed) romance from long ago that each of us has in our past. Decades later, something triggers those memories to resurface, and for a few fleeting moments they become, "oh so near". Her lyrics on Blue Confluence pay tribute to the jazz pioneers, including John Coltrane and Horace Silver. Silver hailed from my home state of Connecticut and passed away as this recording was nearing its completion.
Circular breathing is a tool wind players use to blow longer lines seamlessly. An impossible technique for a vocalist to employ, at times it sounds as if Ingrid has somehow ingeniously figured a way to add cycle breathing to her arsenal through her work on extended phrases and intricate lines found on Waters of March, Into the Groove and Papagaio Rei.
On this recording she whisks through with the ease and precision of a fleet-footed ballet dancer. Ingrid is a fluid balladeer who appeals to the emotions as she captivates our ears while masterfully painting word pictures. She has the ability to instantly transform The San Gabriel 7 into an octet by using her voice as an instrument to double the lead, scat sing or join the horn line behind a soloist (here again a perfect trifecta). Whether she's the vocalist in front of the band or melding her voice into an instrument within the band, Ingrid James consistently displays impeccable intonation, pinpoint articulation and the ability to navigate unusual intervals and angles with finesse, without ever losing the beauty of her God-given voice.
Blue Confluence brings together far-reaching aspects that are properly balanced by each professional who deliver their expertise to the project. Consider the panorama of advanced music, expertly presented by musicians who live a half a world away from each other, cohesively conceived, written, performed and recorded in ways that stimulate both the player and listener equally. It's a confluence I hope Ingrid James and The San Gabriel 7 will continue to take into the studio and on the road for years to come! "
Mark Channon
Thursday Morning Jazz Host - WWUH, West Hartford, CT
Operations Director - WAPJ, Torrington, CT
Station Manager - WIHS, Middletown, CT
Purchase Blue Confluence directly from PayPal


Full Track List :
1. Radames y Pele
2. Waters of March
3. Into the Groove
4. I Dream Of You
5. Blue Confluence
6. Second Chance
7. Listen Up
8. Not This Time
9. Nothing Will Be As it Was
10. Papagaio Rei
11. Another Season
Personnel :
Ingrid James, vocal
Kye Palmer, trumpet/flugelhorn
Glen Berger, tenor Sax/flute
Jim Lewis, trombone
Matt Weisberg, piano
Steve Gregory, guitar
Jonathan Pintoff, bass
Randy Drake, drums
Scott Breadman, percussion Eric Marienthal, special guest: alto sax