Lost My Heart - Ingrid James & San Gabriel 7 feat. Bill Watrous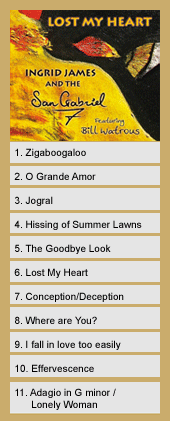 "The combination of the note perfect, brilliant singer, Ingrid James and the tight West Coast outfit 'San Gabriel 7' is a winning one. Their CD 'Lost my heart' has some familiar 70's pop classics teamed with originals and a great re-working of Albinoni. My favourite track which captures the delicacy and vulnerability of Ingrid's tone is 'I Fall in Love Too Easily'. It's great to hear just her and Bill Watrous with minimal accompaniment on this track. Ingrid has a 'horn-like' tone on the unison scat sessions and she sings with confident ease passages which would test most singers. An amazing album!"
Janet Seidel
Australian award-winning jazz singer/pianist
"Her disciiplined delivery is mouthwatering, hitting each word with pristine character while accenting each though with a silk, sultry resonance...."
Mark Channon, USA Radio Present - WWUH Radio W. Hartford, CT
"If this were the 50's Jazz era, Ingrid James would be performing alongside other greats such as Ella Fitzgerald and Billie Holiday. She is by far one of the best jazz vocalists I have every worked with. It's time for America to know and welcome this remarkable award winning Australian jazz vocalist."
BILL WATROUS, USA (7 time winner, Best Trombonist of the Year, Downbeat Magazine)
"The San Gabriel 7's fourth CD is particularly special. Lost My Heart teams the group with the talented Australian vocalist Ingrid James, a singer who deserves to be much better known in the U.S. Not only does she have a beautiful voice and very impressive technique but she is a creative jazz singer, an impressive scatter. and a warm interpreter of lyrics. In addition, Lost My Heart features a couple of notable solos from guest trombonist Bill Watrous. The music is wide-ranging, including the danceable "Zigaboogaloo," Joni Mitchell's "The Hissing Of Summer Leaves," a touching version of "I Fall In Love Too Easily," a spirited rendition of the bossa nova "O Grande Amor" and some hot bop on "Conception." With its inventive Dave Cushman arrangements, concise and colorful solos, and appealing ensemble work, the San Gabriel 7 is heard throughout at its best. The group's matchup with Ingrid James is very easy to enjoy".
Scott Yanow, author of ten books including The Jazz Singers, Jazz On Film and Jazz On Record 1917
"It's an unbeatable combination - a singer who can sound like a perfectly played instrument, and a horn player who comes astonishing close to matching the human voice. Put the two together, give them material that ranges from '70's funk to boss nova to ballads and the result is quite possibly the best Australian vocal album of 2012.
The vocalist is already well known in Queensland and is rapidly making a name for herself on the national and world stage, too. She's Brisbane singer, teacher and mum Ingrid James, whose note-perfect delivery and depth of lyrical expression has elevated her into the elite of Australia's musical talents.
The horn player is quite simply the best trombonist in the known universe, Los Angeles-based legend Bill Watrous. His gift is to make it all sound so easy, the mark of genius. The material comes from myriad sources, Joni Mitchell to Albinoni, '70's pop boogaloo to a classic '30s ballad, accented with a healthy dollop of Brazil. Lyric interpretation aside, Ingrid's chief gift is the purity of her wordless vocals, no easy task. Watrous' horn, meanwhile evokes the sweet expressiveness of masters from Tommy Dorsey to Urbie Green. No less a trombone titan than James Morrison himself stands in awe of Bill's tone, technique and outpouring of rich musical ideas.
Highlights abound, the sensuality of Ingrid's Portuguese words on Jobim's "O Grande Amor", her haunting lyric and Louise Denson's sumptuous melody on title track, the happy bebop of "Conception", and the classic '70's fusion of "Jogral", so reminiscent of Bill's much-loved band of that decade, Manhattan Wildlife Refuge. My own top choice, though, is "I Fall in Love Too Easily", with utterly perfect lovelorn ballad statements from Ingrid and Bill, and fine support from their LA band the San Gabriel 7. It's the most vulnerable, heart-rending treatment of this tune since Chet Baker made it his own in 1955.
Good news if you want to catch Ingrid and Bill in person. The two are playing at festivals at the end of this month in Noosa, Brisbane and Magnetic Island. But if you can't head north, appreciate them on this delightfully varied release."
Steve Robertson, Portland Observer, Victoria (August 2012)
Notes:
Purchase Lost My Heart directly from PayPal
This CD is available from

Lost My heart is also available through itunes for digital downloads

Personnel :
Ingrid James - Vocals
Bill Watrous - Trombone
Jim Lewis - Trombone
Kye Palmer - Trumper
Frank Villafranca - Saxophone
Matt Weisberg - Piano
Steve Gregory - Guitar
Jonathan Pintoff - Bass
Randy Drake - Drums

Full Track List :
1. ZIGABOOGALOO
2. O GRANDE AMOR
3. JOGRAL
4. HISSING OF SUMMER LAWNS
5. THE GOODBYE LOOK
6. LOST MY HEART
7. CONCEPTION/DECEPTION
8. WHERE ARE YOU?
9. I FALL IN LOVE TOO EASILY
10. EFFERVESCENCE
11. ADAGIO IN G MINOR/LONELY WOMAN