PANGAEA - The Global Collective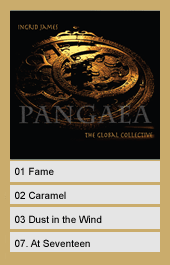 "This collection of covers of material from the 1970s and 80s by Ingrid James and The Global Collective is no nostalgic, sound-alike trip down memory lane. Nor is it an attempt to cash in on the musical flavour-of-the-month with squeaky adolescent vocals or rapping. It is a set of musically intelligent arrangements by trumpeter Paul Armstrong and multi-instrumentalist Todd Harrison performed by artists from quite literally around the world. The music draws together influences from South and Central America, jazz, bluegrass, folk and popular music. Such a project is only made possible (with a budget in the hundreds of thousands) through the advent of 21st century digital technology, and we are the luckier for it....Ingrid James' extraordinary range is showcased as her voice is variously warm and engaged, cool or contemplative, clear, or soft and hushed. Her diction is flawless... "The outstanding musicians in the Global Collective have asked themselves what these classic songs are really about and approached their material with fresh ears. The result is a refreshing new perspective on our musical past which points us towards a healthy musical future."
Louise Denson, Head of Jazz Studies, Queensland Conservatorium of Music.
Pangaea "is the title of this unique album whose members have bridged time and distance to create music that is challenging, beguiling, powerful and thoughtful. The players hail from widely separate locations as Australia, the United States, Nicaragua, France and Russia... Core members - Australian vocalists Ingrid James along with Texas-based musicians Paul Armstrong (Austin) and Todd Harrison (Houston) limned out repertoire and conception via email and skype..." All the songs "were hits during the 70s and 80s - nuggets from a rich lode of material...yet this is in no way a tribute album of the sort where lesser performers slavishly emulate their heroes. Rather, this a lovingly crafted revitalisation of repertoire from a richly musical era...Vocally speaking this is Ingrid James' album. Renowned for her clarity of diction and flawless pitch, she's funky to the max on Fame, beguilingly convincing on Kerry Livgren's Dust in the Wind and Latinsavvy on Suzanne Vega's slow tango, Caramel. The word "pangaea"- derives from the ancient Greek words "pan" meaning "entire" and "gaia" meaning "earth". No other word expresses the spirit of Ingrid James & The Global Collective. This is music that bridges cultures and makes virtue of diversity. It has a freshness, vigour and soul..."
David Bentley - Australian pianist/singer/songwriter/journalist.
"Paul and Todd have taken various tunes that might be somewhat unexpected and slightly obscure in this present day, and re-arranged them into unbelievable versions of same, and adding the superb vocals of Ingrid James to top everything off... Highly recommended!!!"
Bobby Shew, US Jazz trumpet.
"Pangaea is not the fast-food version of today's albums. In fact, in order to fully enjoy this recording, you will have to get over yourself and your pre-conceived notions of what your ears are telling you is coming next. There are surprises around every corner, and it feels like James and the Global Collective set out to do just that... This music in not saccharine. Ingrid James vocals are like the perfect glass of wine with your meal, and the musical arrangements from Armstrong and Harrison form a bedrock of flavour from which a plethora of ingredients spring forth. Guitars, strings, saxophones, and a ton of percussion await you, and again, challenge you and your musical ears."
Andrew Layton, Freelance Saxophonist, Washington D.C.
"The musicianship is first class. The production is of international quality. The arrangements are wonderful and Ingrid's vocals are superb. She is a singer's singer - never tries to overdo it - just does it right. It's not easy taking a well known song and arrangement - change it dramatically from the original and have it accepted. We tend to fall in love with the original and can't see beyond that, but if they are done with passion, care and consideration, they can work beautifully and that is apparent with this album."
Peter Cupples, Australian singer/songwriter/producer
"Ingrid doesn't just sing, she has a way of taking you 'into a song' and with Ingrid, that's a nice place."
John Diegan, Australian Radio Presenter - BayFM/4MBS
"Using an abundance of musical textures, color splashes and mixture of feelings, Ingrid James carefully takes her listeners through a captivating odyssey on her new album Pangaea. The Pangaea Theory puts forth that the world's separate land masses were at one time unified as a super continent. Pangaea does not seek to reconnect the vast real estate puzzle, but as the subtitle, "The Global Collective", proclaims, it unites musicians and ideas from around the world onto one audio sphere. With the able help of Paul Armstrong and Todd Harrison, the adventurous kaleidoscope of sound spins an eclectic panorama influenced by Baez, Miles, Metheny, Jobim and The Carpenters through strings, horns, bass, drums, electronics and Ingrid's impeccable and amazingly beautiful voice".
"Fame opens Pangaea with a relentless rhythmical groove laid firmly in place from start to finish by one of the most explosive set drummers of our day, Todd Harrison. Arranger Paul Armstrong is heard on synthesized voices and muted trumpet. The listener will at once find himself in the spirit of Pangaea as Fame swirls about delivering a musical montage. Armstrong and Harrison converge on Fame Remix, working an arrangement for Ingrid to moan and wait with funky, robotic voicings. Her tightly knit cast of top-shelf musicians resonate the funk with a bell tolling across the landscape. The groove vibrates concluding statements that confirm this presentation is loaded with unexpected turns. On Caramel Ingrid James' pure toned voice drips with emotion with the underpinnings of strings and guitars. Her disciplined delivery is mouthwatering, hitting each word with pristine clarity while accenting each though with a silky, sultry resonance. Pushing 240bpm, the rhythm section is way up tempo from the Carpenters did on the original recording of Close to You, Ingrid flies in over the top floating, twisting and turning with dreamy expressions on the head, laying on an array of long tones that demand a balance of control and endurance. The bridge pulls the rhythm section back and focuses the listener of her range, and she does not disappoint! Behind Ingrid is Paul's harmon muted trumpet, African chants and Middle Eastern accents all spinning sound and emotion....."
Mark Channon, USAJazz Radio Presenter (WWUH Radio, W. Hartford, CT; WAPJ, Torrington, CT; WDJW, Somers, CT: WWEB, Wallingford CT)
Ingrid James Brisbane Jazz Club 17 September 2011
If you took the superlatives out of some reviews there might be little content left, and if ever a review deserved superlatives it is this one. Because we have been fortunate enough to have this quality of home-grown talent and, because the faces and sounds are so familiar to us, it is easy to overlook the fact that Ingrid, John Reeves, Andrew Shaw and Paul Hudson could tour anywhere in the world to rave reviews.
Ingrid constantly seeks and achieves vocal perfection in her performances and her long-time association with John Reeves produces many new takes on old, or sometimes obscure numbers, bringing them sharply into focus with a new lease of life. Just take a look at the list of titles on her latest CD Pangea and you will get the idea.
For me the renditions of 'Dear Prudence' and 'Ruby Tuesday' were outstanding. Ever the innovator, Ingrid also featured George Jackson, a brilliant young violinist, with a musical maturity way beyond his years, and a vocal backing group consisting of her daughter Laura, and Spencer & Kristi Whitely, providing some beautifully harmonious settings for Ingrid's incredible voice, in last night's show.
The musical mastery of John, Andrew and Paul contributed so much to the success of the evening; their empathy and skill produced many magical moments in what was another superlative performance by Ingrid.
Alan Western (Brisbane Jazz Club) 18/9/2011
Notes:
Purchase Pangaea directly from PayPal


This CD is available from


USA/Australian co-production

Personnel :
Ingrid James
Todd Harrison
Paul Armstrong
Marva J. Lewis
Christian Fernandez
Kenny Cordray
Tom Lagana
Danny Levin
Matvei Sigalov
Alfredo Mojica
Pat "Shinook" Shook
Didier Prossaird
Darryl Brenzel
Jeff Lopez
Dave Pulkingham
Steve Lesche
Dave Foster
Tim Young

Full Track List :
1. Fame
2. Caramel
3. Dust in the Wind
4. Don't Fear the Reaper
5. God Only Knows
6. San Antonio Rose
7. At Seventeen
8. Mr. Bojangles
9. Close To You
10. Don't Dream It's Over
11. Fame Remix