PORTRAIT - by Ingrid James & Louise Denson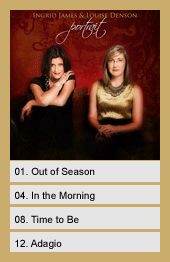 Jazz vocalist Ingrid James and pianist Louise Denson explore innovative ideas and themes, captured vividly in an album they hope will resonate with audiences around the world. "Portrait" is their story.
This is exciting playing by a wonderful group of musicians, and clearly they have a deep respect for the jazz tradition. Ingrid and Louise have brought new things to music by way of creative lyrics and compositions. They connect beautifully with one another in terms of sound quality - nothing forced, nothing overdone, and very refined. Words from one song describe their collaboration perfectly: "Warm and Beautiful".
- Tony Gould, pianist/composer/educator
"This all-Brisbane production of mostly originals features vocalist Ingrid James and pianist, composer and arranger Louise Denson leading a strong quintet of local players. In some ways this album has a slightly retro feel, with James's voice producing nostalgic facts of a Peggy Lee/June Christy blend. ...James has an impressive vocal range capable of expressive phrasing and timing, but ample space is allowed for the musicians to perform...."
John McBeath, The Weekend Australian 2007
"Many tracks feel like a captured story filled with warm and intimate thing..."
John Hoffman, trumpet/big band leader/educator
"This album is a fine example of globalization in its ideal sense. The music of Ingrid and Louise knows no geographic boundaries - from Down Under to New York to the Far North, we ultimately all share one set of needs and values: joy, family, spiritual journey... its all here….Ingrid can just plain sing, and Louise's rare musicality is evident from the first note."
Aaron Goldberg, pianist NY
Notes :
Purchase Portrait directly from PayPal



This CD is available to purchase from

Released nationally by Newmarket Music in May 2007

Personnel :
Ingrid James - Vocals
Louise Denson - Pianist
Helen Russell - Bass
Joe Marchisella - Drums
Mark Spencer - Tenor Sax, Flute
Carl Harvoe - Trumpet

Full Track List :
Out of Season
Sweet Lessons
Rent-a-Crowd
In the Morning
Son of Northland Pt 1
Son of Northland Pt 2
Passion Flower
Time to Be
Lonely Wing
Cut and Dried
I Don't Smoke
Adagio in G Minor/Lonely Woman
Contemplacion