REUNION - by Trudy Kerr & Ingrid James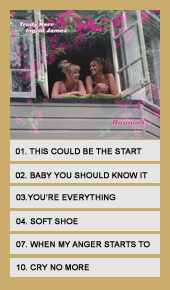 Ingrid James and Trudy Kerr's 2010 release "Reunion" was voted by Brian Glasser as one of his Top 10 albums of 2010 in the prestigious JAZZWISE Polls!
Two Australian jazz singers Ingrid James and Trudy Kerr, who formerly sang together in Brisbane 20 years ago - One moved to London in the 90's, studied at Guildhall and now has 9 recordings to date on the Jazzizit label (Trudy) and hailed as 'one of the UK's most polished singers' by The Times - the other, Ingrid, an Award - winning jazz vocalist and educator in Queensland described by Sydney Morning Herald as a "fearless and gifted Jazz singer", stayed in Brisbane, studied at The Queensland Conservatorium of Music and has 6 recordings to date.
A "REUNION" album was a long, cherished ambition for the 2 jazz singers based on opposite sides of the planet and finally it was realised with a recording made over 2 days in London in July 2009. With a superb UK rhythm section Tom Cawley (piano), Geoff, Gascoyne (bass) & Seb de Krom(drums), Anita Wardell says:
"Reunion" brings vocalists Trudy Kerr and Ingrid James together, displaying an exceptional balance of interpretation and musicianship.
They deliver an eclectic selection of jazz, Latin and folk songs by composers such as Chick Corea, Bob Dorough, Baden Powell and Carole King. With a fresh approach, they bring new life to the songs and sing together, as a duet should be sung yet each of them having room to shine.
"A CD you'll want to revisit again and again. I love it!"
Anita Wardell
"A delightful collection between singers Trudy Kerr and Ingrid James with both singers demonstrating not only near telepathic sense of vocal interplay but also adroit interpretative skills"
Charles Waring - Record Collector Nov 2010
Exuberant vocal jazz from two Aussie songbirds radiating old-school hip and dexterity. Featuring fresh Geoff Gascoyne arrangements and adaptations of Mulligan, Corea, Don Cherry and Bud Powell material, the music is delievered with cool unisons, tight harmonies, and pin-sharp vocalese, Sweet, swinging, sassy, plus a hint of tartness from Tom Cawley's edgy piano.
Chris Ingham - Mojo Nov 2010
Australian singers Trudy Kerr and Ingrid James worked together regularly in Oz two decades ago and despite Kerr settling in London, have enjoyed parallel careers. Listening to this CD - very much a 21st century affair as it was rehearsed over Skype - you'd never realise that they hadn't collaborated regularly in so long. Their voices work together a treat, weaving round each other, harmonising with each other and sharing the spotlight throughout. The songs are a mix of numbers by contemporary writers and vocalese tunes with a couple of old classics thrown in.
Alison Kerr, The Scotsman, Aug 2010
A pair of Jazzy Chanteuses get together and do what comes naturally - gossip (Girl Talk), shop for shoes (soft Shoe), share romantic secrets (Dancing on the Ceiling) and worry about therapy (When my anger starts to cryO. Kerr and James blend naturally well, swapping lines, entwining in unison or counterpoint, trading girly ad-libs. The material comes from the tradition of vocalise, the art of appending words to jazz solos, which is a direct route to the subconscious, and perhaps explains whey so many vocalise songs are about going mad (there are two here). Not that the music is never anything less than charming and swinging with just-so phrasing and a pleasing lilt. Clearly, Kerr and James are loving and loveable women. A soft crooning Waltz brings it all back home.
M.E.N 2010
Trudy Kerr's ninth album presents a very special pairing with her old friend from OZ, fellow jazz singer Ingrid James. With a terrific song list that ranges from Jon Hendricks' rambunctious version of 'This Could be the start of Something Big' to a swinging waltz-time take on chick Corea's 'You're Everything' to a Carole King's 'Way Over Yonder/So Far Away' the duo rekindle their erstwhile musical partnership with empathy, exuberance and imagination. The pair negotiate the tricky syncopations of Bob Dorough's 'Baby you Should Know it' and the angularity of 'A Little Crazy' (after Bud Powell's 'Un Poco Loco') with such unbelievable precision that it would be impossible to blow smoke between their respective melodic lines. Other standouts include a delightfully fluid account of Ann Hampton Calloway's 'Finding Beauty' and a captivating 'Art Deco', featuring words by Sheila Jordan music by Don Cherry.
Peter Quinn, Jazzwise Magazine Sept 2010
It's also an unequivocally enjoyable, impeccably performed set of intelligently selected songs, ranging from the peppy opener, 'This Could Be the Start of Something Big' (inspired by the Jon Hendricks version), through visits to jazz classics (Gerry Mulligan's 'Soft Shoe', wittily transformed into a paean to female footwear with a concluding moral; Bud Powell's 'Un Poco Loco', inspired by TV's righteous serial killer Dexter) and personal favourite songs (by the likes of Bob Dorough and Ann Hampton Calloway), and concluding with a tender, clearly heartfelt version of 'Waltzing Matilda'. There is also a delightful 'Girl Talk', scatterings of vocalese, and a Carole King tribute ('Way Over Yonder/So Far Away').The women's voices blend perfectly, both in natural-sounding harmony and trading lines/verses, and with accompanying duties flawlessly performed by pianist Tom Cawley, bassist Geoff Gascoyne and drummer Sebastiaan de Krom, this is an unalloyed treat, providing that rare and precious commodity, serious fun.
Chris Parker Vortex Website Oct 2010
Two talented vocalists, top-class musicians, inspired song selections, a few new lyrics and a genuinely original set of arrangements come together to make Reunion: a fresh-sounding and charming album from Australian singers Trudy Kerr and Ingrid James.
Kerr and James' voices are distinctive and complementary. James'who appears in the left channel - has the slightly brighter, more crystalline, voice. Kerr, using the right channel, has a softer edge to her voice that gives her sound greater sensuality. Neither is a bluesy shouter, but apart from that they have pretty much all of the vocal bases covered.The singers have delved into contemporary song, jazz standards, '70s soft-rock and even the Australian tradition to create Reunion. Songs by Steve Allen and Bob Dorough represent the standards. Allen's "This Could be the Start of Something Big" kicks off the album with a superb duet and a swinging arrangement inspired by Jon Hendricks. Dorough's "Baby You Should Know It" has a slinky groove that's heightened by the vocal delivery from both singers. There is a strong sense of humour pervading the album, too. It's typified by "Soft Shoe:" the arrangement is based on the original, from composer Gerry Mulligan's Quartet, but Kerr and James extend the shoe theme by vocalizing about their favorite footwear - James sings lovingly of her Jimmy Choos, Kerr describes a bewildering array of styles and finishes, Sebastiaan de Krom's brushes create a well-fitting shuffle beat while Geoff Gascoyne underpins the vocals with, of course, a funky walking bass line. A slightly darker edge to the humour appears on "A Little Crazy" - Bud Powell's "Un Poco Loco" with added lyrics from Kerr that were inspired by fictional serial killer Dexter. Tom Cawley's piano solo is terrific - light, delicate and bouncy. There's also a version of "Waltzing Matilda." The loveliest song on the album is "When My Anger Starts to Cry," by Beate Lech of Norwegian band Beady Belle. Kerr and James stick very closely to Beady Belle's own arrangement of this haunting composition. Their voices capture the sadness and the mystery of the song's imagery perfectly: Gascoyne, de Krom and Cawley create an ideal musical atmosphere. Reunion is immediately enjoyable: everyone on the album sounds like they were having fun and this readily translates to the performances. The vocal partnership between Kerr and James is delightful - a second reunion will hopefully be on the cards soon.
Bruce Lindsay AAJ Oct 2010
They sound marvellous together. I'm always happy to be able to say that I thoroughly enjoyed a whole album - and this is the case. Within these 13 tracks is not a dull moment. ...What impresses is the variety, both of the material and the way they combine their voices on it. Two top-quality items that are graced by such Trudy/Ingrid elements as synchronised diction and lyrical interplay.
Les Tomkins, Jazz Rag, Autumn 2010
Jazz vocal duo albums are pretty rare and this is, as always a classy offering from Kerr and her colleagues. It's also unusual to find two duetting singers who sound so similar when so many vocal pairings go for the "chalk and cheese" approach. Kerr and James come from similar musical and cultural backgrounds and have many shared influences. They obviously have great respect for each other's abilities and this is reflected in their work, a partnership of equals where nobody gets in each other's way. Cawley, Gascoyne and de Krom are superb throughout, sympathetic and supportive, always adding but never imposing. There are some neat instrumental solos and cameos, notably from Cawley, but really this album is all about the singing and the songs. "Reunion" is a sophisticated package that is likely to attract healthy audience numbers for the duo's forthcoming UK tour. Having already toured the album around Australia Kerr and James should be in fine voice.
thejazzman.com Sept 2010
Notes:
Purchase Reunion directly from PayPal


Australian National Release July 2010 Planet Distribution

UK Release September 2010 Jazzizit Records: Cat No. JITCD1054
Distributor: Proper Digital: IODA (UK)
Australian Distributor: The Planet Company

Personnel :
Ingrid James - Vocals
Trudy Kerr - Vocals
Geoff Gascoyne - acoustic bass
Tom Cawley - piano
Seb de Krom - drums

Full Track List :
1. This Could be the Start of Something Big
2. Baby You Should Know it
3. You're Everything
4. Soft Shoe
5. A Little Crazy
6. Girl Talk
7. Finding Beauty
8. Dancing on the Ceiling
9. Way over Yonder /So Far Away
10. Cry No More
11. When My Anger Starts to Cry
12. Art Deco
13. Waltzing Matilda