THE JAZZ SINGERS' JAM NIGHT
Produced and hosted by INGRID JAMES (since August 2001)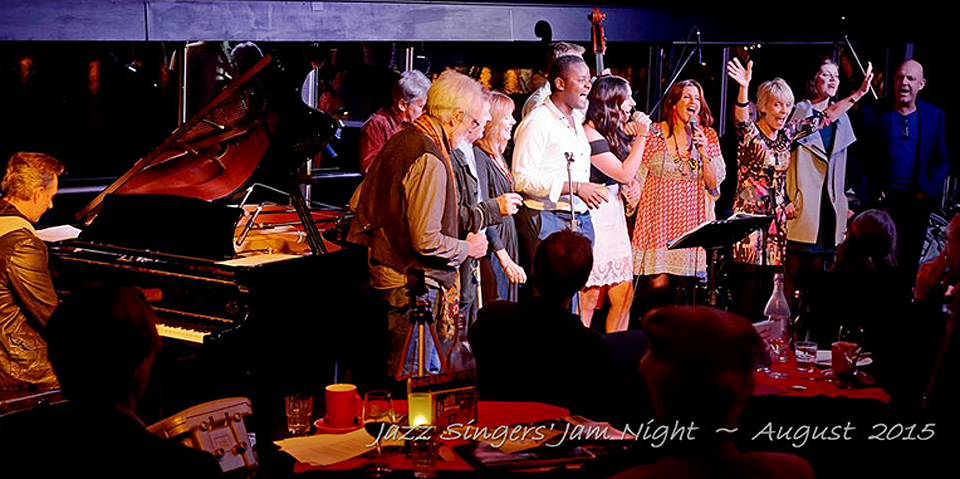 1st Thursday of every month held @ The Brisbane Jazz Club, 1 Annie Street, Kangaroo Point, Brisbane, Australia - 7pm to 10pm
The longest-established source of mentoring and encouragement for jazz singers in Brisbane - the iconic Jazz Singers Jam Night - has been running for over 20 years (since 2001) and is currently based at the equally iconic Brisbane Jazz Club.
Brisbane can proudly boast the synergy between these two established enterprises and lay claim to a love and loyalty for jazz which has nurtured them over the years.
Ingrid James created Jazz Singers Jam Night, which was resident at a number of other venues, before finally gravitating to its natural home at the BJC.

As one of Australia's leading jazz singers herself, Ingrid has re-invested her talent and experience in building up these nights to capacity houses on many occasions . This is indeed a labour of love for Ingrid who demands no payment for her leadership and organisation of these events.

A typical night will see around a dozen singers - some veteran performers, others making their first public appearance anywhere - appearing on the program to sing two numbers each, backed by a professional jazz trio, who are paid by the BJC from door takings. These trios are often augmented by other jazz musicians who come along just for a 'sit-in and a blow'.

There is no rehearsal, which demands great proficiency from the trio - just a quick talk-through on stage during the time it takes Ingrid to tell the audience about the singer's background and experience. It could easily be argued that presenting such an almost impromptu performance is artistically risky and smacks of 'amateur hour' .....strangely enough nothing could be further from the truth, and some of the most magical moments I can recall at the BJC have been during Jazz Singers Jam Night.
"One of the endearing aspects of JSJN is that it is almost a club within a club, many friendships are formed between singers and musicians and the audience attention is fully supportive of every kind of performance. We have seen talented 12 year olds almost trembling with nerves coming on stage to wow the crowd; we have seen those same children growing in confidence and absolutely taking the crowd by storm at the age of 15. Age is no barrier in jazz, and the style and stature of some singers who have had 40 year careers as entertainers gives tremendous insight to all the young hopefuls into how to choose material and present a song.
In this vastly commercial world, through Ingrid, Jazz Singers jam Night has demonstrated an example of selflessness which is rare these days, and shows what community spirit can be engendered between people with the common purpose of promoting jazz"
Alan Western
Chairman of Music & Events/Vice-President, Brisbane Jazz Club
Jazz Singers' Jam Night (JSJN) 12th Anniversary Review 1 August '13
"Yet another fabulous night at the Jazz Singers Jam night (JSJN)! An innovative program developed by Ingrid James in 2001 to promote vocal Jazz throughout the community through creating opportunities for both aspiring and established musicians. Its an opportunity to gain valuable experience and exposure performing to a live audience with the professional backing of accomplished musicians from across Australia with the occasional international guest. Over the years, these nights have also provided the opportunity for Jazz vocalists and musicians to meet on a regular basis and collaborate on the development of the artform in a professional environment, contributing to the continuing popularity of Jazz."
(Di Clark, Duty Manager, Brisbane Jazz Club)
TESTIMONIALS
WHAT PEOPLE SAY
"Dear Ingrid, Thanks so much for enabling Brendon to play trombone last night. He had a great time and was really bolstered by the encouragement and kindness of everyone". Sharynne 6/1/2022
(Instrumentalists welcome to sit in)
"Hi ingrid, I just wanted to send you my thanks for running the jazz singer jam nights.
After my last recital at the Con, I was at a point where I was ready to give up singing for good.
If it wasn't for being able to maintain my performance confidence through the JSJN platform, I would not be heading in my latest direction of joining the Hint of Swing Big Band with Ivan Cocking, which is an unbelievable dream come true for me. So, thankyou, thankyou, thankyou and see you again when I'm not learning a tonne of new lyrics..."
Love, Corina Sills 21st May 2021
"Benefits for young singers performing at the
Jazz Singers Jam Night
and
Voices of Tomorrow [first event kicked off 17 December 2020]
nights are threefold – firstly, the Brisbane Jazz Club, its beautifully intimate setting filled with a community. The Club has nurtured an audience culture that respectfully listens, supports and celebrates jazz and musicians and is run by an amazing band of volunteers that provide professional sound, take professional photographs, serve you drinks and bring great meals from the Story Bridge Hotel caterers. So as a family, it's a great night out as well. Secondly, and maybe firstly from the singers put of view, Ingrid James has created a platform where singers begin to understand that they are musicians in their own right. They learn to communicate as a team player with the other musicians, discuss the nuances of their interpretation of their piece and direct how they would like the performance to go. A great grounding for singers to develop independence and team skills in front of a real audience Of course, like all forms of communication, its a learned process that improves with practice, however, Ingrid always provides the most amazing professional and experienced musicians, so the singers are also getting top notch musicians, who are mentoring them through this process as well. Thirdly, it's free for singers and the only costs for family supporters are those for a Dinner and a Show – a great night out."
Natalie Parish, parent
Whether it be a launching pad for up and coming jazz vocalists or a further opportunity for the more seasoned performers to 'show their wares, the Jazz Singers Jam Night, held at the Brisbane Jazz Club each month is 'one out of the box. The excellent river location, the sound and ambience, wonderful and talented musicians and the obvious dedicated work of Ingrid James and the BJC team provide a mix which certainly demonstrates that jazz is alive and well in Brisbane town. As a newcomer to the event, I see it as a unique and wonderful long standing initiative, which I am sure enhances and strengthens the current talent and scene but equally will ensure the future viability of jazz both locally and further afield.
Paul Ingle, Trombonist Melbourne (2008)
The Jazz Singers Jam Night at The Brisbane Jazz Club is a critical part of the jazz scene in Queensland, and one of the highlights of Queenslands musical history. The musical stories it can tell are important and should be preserved, but just as important is its place in the future of Queensland Jazz. It has become an institution.
Robyn Hamilton, Qld Music Co-ordinator, State Library of Qld, 2013
How things have change in 3 years! Meeting Ingrid James and becoming part of the Brisbane Jazz Club family and the Jazz Singers Jam Night has LITERALLY helped to transform my life - for the better. I am SO GRATEFUL for my jazz family...Naomi Doessel, Nov 2019
Oh my gosh Ingrid I just HAD to write and say that last nights Jazz Jammers 18th anniversary night was absolutely amaaaaaaaaazing! Incredible! My sis Anne and I are still processing what we saw and heard and walking on air! The talent of you all as singers, musicians, performers, and creative artists was nothing short of gob smacking to use a good ol English expression from my London days ha! Wow wow wow! I have so many questions for you on Wednesday!
I can't believe how privileged I am to be learning from you!!!! A fantastic amazing night! Huge congratulations! Both Anne and I have travelled the world extensively, lived overseas, seen hundreds of "shows" of all sorts and never experienced a more wonderful night - truly! I just had to write !!! Thankyou to you all for sharing your amazing abilities 🙏
Kaye Fox, 18th Anniversary, Jazz Singers' Jam Night 2019 💃🎵
The Jazz Singers Jam Night is a much needed opportunity for young, emerging singers, or singers of any age, to sing in public in front of a comfortable and supportive audience, otherwise they have nowhere to try their craft. An immensely enjoyable night.
Sharny Russell, Singer/Jazz Vocal Teacher, Qld Conservatorium & JMI - 2013)

My first time performing at the Jazz Singers Jam Night was 11 years ago and it has been a vital part of my education and life in Brisbane Jazz. I owe a debt to Ingrid and the JSJN for enabling me to be the best performer and singer I can be!
Stu Fisher, Jazz singer/comedian/actor, 2013

I moved to Brisbane in 2007 to peruse my dream of a performing career and began a degree at the Queensland Conservatorium of Music studying classical piano. Though I wanted to be a jazz singer. I had no performance experience and started singing at the Jazz Singers' Jam Night. My first performance there was in 2007. I had such an amazing time there performing at the jam night a few times each year between 2007 and 2011. It was there I learned the skills and tools that eased me through those very awkward first performances when I was still discovering that a singer had to learn the melody, write an impeccable chart and direct a band confidently and most importantly, entertain the crowd.

What this has allowed me to do is successfully audition and complete a Masters degree at the Queensland Conservatorium of Music in jazz/contemporary voice, be a finalist in James Morrison's Generation's in Jazz Vocal Scholarship where I performed alongside Sarah McKenzie (2012 ARIA Award Winner), Phil Stack (Thirsty Merc) and both James and John Morrison. I am now an official vocalist for the Royal Australian Navy, Run and Sing and in a successful corporate music band called An Empire Of Sound. I want to have an impact, a full and lasting career that makes a difference.

I would not be where I am today if it wasn't for the Jazz Singers Jam Night and the support of Ingrid James. I learned so many things at these nights. They are a safe, welcoming space that allows young and seasoned performers to develop, discover and push the boundaries of their skills that no other environment allows. The Jazz Singers Jam Night is an asset to the music community of Brisbane and is a most incredible initiative.
Mark Jozinovic, Jazz Singer/Teacher, 2013
JSJN certainly a community that's been around for a long time. There is no other platform around to present singers of all ages and levels and give many the experience of performing with a live band. Age is not kind to us ladeez, something not many appreciate ... all that we go through and we have to combat. Of course, we know about the physical changes and the impact but this also reaches into our singing voices! I have been to many teachers over the years, classical mainly, but when I arrived here, I changed my pathway, and over the years, ultimately, I feel I have developed greater musicianship, ear training, creativity. Ingrid has been my singing teacher for over 4 years and works with me on a very practical level and knows my strengths and weaknesses. It really is a great personal affinity that I applaud her for. We work on technique but also hands on pointers that I can relate to. Through the JSJN I have met many wonderful musicians and now feel very lucky to work with them in my shows. Without the JSJN and Ingrid I wouldn't be where I am today with my voice and confidence.
Jan Lennard, Jazz singer, May 2020
Being a part of the Jazz Singers Jam Nights makes me so happy I could burst! Theres nothing else like it in South East Queensland.
Kylie Agnew, Jazz singer/Maths teacher, 2013
I first met Ingrid James when I attended one of her singer workshops in 2004. I had never sung before and found her workshop to be full of content and extremely useful for someone new to singing in general and Jazz singing in particular. I followed on from this workshop by having some singing lessons with Ingrid who, not only worked with me to develop my technical expertise and style but also encouraged and mentored me to start performing in public. This was done through attendance at the Jazz Singers' Jam Nights, an initiative that was developed and driven by Ingrid to give the opportunity for Jazz singers to gain exposure to live performance with the support of talented professional musicians. The jam nights' reputation has grown so much that singers have to book in months ahead and the packed audiences really enjoy the variety of singers and songs. The popularity of the Jazz Singers' Jam Nights has also benefited the Brisbane Jazz Club, a not for profit organisation, both financially and by reputation. Ingrid also organised a number of successful Jazz gigs at various venues throughout Brisbane in which a number of singers such as myself have performed.

Over the years, Ingrid has taught many young (and not so young) singers to give them the tools and confidence to pursue their dreams of Jazz singing. Many of the Conservatorium Jazz students would attribute their success to Ingrid's teaching and through the Jazz Singers' Jam Nights together with the workshops Ingrid regularly runs. Ingrid works tirelessly for the Jazz singing community by organising workshops in which visiting and international artists feature to share their knowledge and expertise with the participants. I have attended many of these workshops with featured artists such as Matt Baker, Nic Jeffries, Tricia Evy (Paris) and Dan Barnett, Chris McNulty (New York) Libor Smoldas (Prague), Bill Watrous (Los Angeles), Janet Seidel, Professor Pete Churchill, to name a few. These workshops have proved to be invaluable to me.

It is thanks to Ingrid James that I am now singing regularly with a variety of musicians around Brisbane. I also sing with a Big Band and am a regular guest vocalist with the Brisbane Big Band at the Brisbane Jazz Club. I have also had a number of performances with a trio support band at the Brisbane Jazz Club, which have been very well received.
Ingrid's contribution to the development of Jazz vocalists cannot be measured it is so extensive. The infrastructure she has set in place ensures that singers can network and gather to exchange views and share ideas.
Di Clark, jazz singer/Duty Manager, Brisbane Jazz Club (2014)
The Jazz Singers Jam Night at the Brisbane Jazz Club a place where one can feel surrounded by an extended family, all united by a common love for JAZZ! The casual, supportive atmosphere is so special and as vocalists we can feel like divas for a few moments. May this never ever stop!
Victoria Luppi, Jazz singer/teacher, 2013
An amazing night in a great venue with unbelievable talent thank you Ingrid James for putting this all together. Wonderful entertainment from a great variety of performers where else can you see this wonderful array under the one roof?
Sandra Breen, OAM (in 2010 Sandra Breen was awarded a medal [OAM] of the Order of Australia for service to the performing arts, 2013

"There's a unique atmosphere or 'buzz' that happens in the Club sometimes when everything feels right and you know the Clubhouse is populated by jazz-lovers here for the music and the people. The first JQ/JSJN had this vibe about it from the first note to the last. Singers of all levels of experience got up on stage, sang their hearts out and were received with great warmth, humour and encouragement from a thrilled crowd".
Greg Gottlieb, former Artistic Director of Brisbane Jazz Club/bass player based in UK (2008)

"...At the Jam Nights, you have the chance to perform with a band that you haven't met (or rehearsed with) beforehand, but you know that they are good musicians and that you can trust them. It has an environment that I find very welcoming, warm and supportive and the combination of all these factors encourages the singers to get up and perform..."
Lucia Hodge, singer/voice teacher (2013)
"...very, very enjoyable....plenty of interest...plenty of variety."
Paul Gibens, saxophonist/bandleader/arranger (2010)
My name is Warwick Cheney. Im from Northern NSW. Travelled 3 hours by car for this night. Absolutely adore the Jazz Singers Jam Night, the scene, the Club and the location. A perfect night. I will be back!
Warwick Cheney, 2013

This is the BEST venue in the City. I have travelled 3½ hours for tonight. I just love your work Ingrid. Its so cultural and classy. Thank you.
Kelly Lockyer, 2013
A beautiful, friendly environment with much talent and lots of love! Coming here is always the highlight of my week! Thank you Ingrid and all the wonderful volunteers that make it possible and keep it going!
Tina Riveros, Brisbane singer, 2013
The Jazz Singers Jam Night is a vibrant, talent-filled event where I have spent many joyous hours. The opportunities given to singers and musicians are incredible and the calibre of performances is crazy. Happy birthday Jazz Singers Jam Night.
Alex Carlton-Thomas, Grade 10 student, singer/songwriter, 2013
An enormous part of my life here in Brisbane every month world class jazz how fortunate are we!
Michael Hocking, audience, 2013
The Jazz Singers Jam Night is a great and largely un-tapped resource of awesomeness, some old gold and new surpises.Good stuff! Lachlan Mitchell, singer/guitarist/songwriter, 2013
My first visit to the Jazz Singers Jam Night @ The Brisbane Jazz Club. Have I been missing out! A wonderful night and as good as any in Australia. Wonderful.I'll be back!
Peter Cupples, singer/songwriter/recording artist, 2013
First time at the Jazz Singers Jam Night and extremely impressed by the talent and range of musicians and singers featured. Hoping to make it a regular event its a wonderful place to see musicians that you wouldnt normally have the opportunity to experience. Loved the welcoming atmosphere and this place has the vibe of an institution fantastic keep up the great work! (unsigned, hand-written testimonial @ BJC on the JSJNs birthday, August 2013)
First time here. Have always wanted to be here and so glad to say everything has way surpassed my expectation. A fantastic atmosphere, so welcoming, real and totally unpretentious. The talent is amazing. Many thanks to all involved.
(unsigned, hand-written testimonial @ BJC on the JSJNs birthday, August 2013)
Simply incredible evening. A fantastic opportunity for new and local artists to showcase their growing talents. Well certainly be back to this amazing venue!
Andrew Neilsen, singer & psychology student, 01/08/2013
Its my first night here and I cant believe the amount of talent and passion in Brisbane that I knew nothing about. I will be back for another amazing night. Thanks so much to the organisers and musicians. Youre all fantastic.
Lillian Kerrison, 01/08/13
The Jazz Singers Jam Night at BJC what an amazing place. The talent showcase here is nothing short of stunning. Why would you go out to see overseas artists when our home-grown talent is here right on our doorstep. Please keep up the wonderful work.
Annette Van Yperen, August 2013
Terrific venue, terrific crowd, and wonderful musicians! Cant wait to get home to Toronto, Canada and tell everyone about the Jazz Singers' Jam Night at the Brisbane Jazz Club.
Brian Flitt, 01/08/13
I just wanted to say that Jaime and I really enjoyed last night. It was a varied and interesting line up with loads of talent and style. We both thought that your performance [Ingrid James] was exquisite and subtle- and in no way over shadowing any other singer yet clearly expert and so musical. There was something for absolutely everyone and I love the way our friends were all so into the performances and felt intimately involved with them personally through your lovely and positive introductions. The band was great!
Antonia Breen, Voice teacher/singer (2013)
We were all so fortunate to have such a tight, professional and empathetic rhythm section who were as supportive as any singer could wish for as they showcased each individual's style. I'm looking forward to the 8th birthday of the jam night already!
Denise Slater, Augusts Jazz Singers Jam Night (2013)
Firstly I have to tell you how much I enjoyed last night! It is not just the confirmation that the Brisbane jazz scene is alive and well and in good hands, but the musical and vocal talent available here is quite awe-inspiring.
Neale Webb (2013)
This months jazz singers jam was the best we have seen so far this year and we are constantly in awe of the talent here in Brisbane. It is so good to see young performers given the opportunity to display their talent in public and just as good to see performances by the amazing people who have helped them hone their craft. Truly inspirational!
Mardi Gow, Augusts 2013, Jam night
There was no time for the seven year itch during what was a brilliant Tuesday night of talent, tributes and great jazz. Bring on the next seven years. Well done to Ingrid and the team at the Jazz Club. Very enjoyable.
Steve Mendl, singer (2008)